Do you think schools are preparing students enough for the world of work? Many people will have opposite opinions on this, due to the fact that they will have gone to different schools and therefore their career guidance would have been different.
The results from State of the Nation's most recent report show that there is still room for improvement in the way that schools are preparing students for their working life. They used almost 600 secondary schools and researched to find out how schools are performing, based on the standards set by the Gatsby Benchmarks. But what are the Gatsby Benchmarks?
A stable careers programme.
Learning from career and labour market information.
Addressing the needs of each pupil.
Linking curriculum learning to careers.
Encounters with employers and employees.
Experiences of workplaces.
Encounters with further and higher education.
Personal guidance.
State of the Nation Report; The Key Findings
Here are some of the key findings from the State of the Nation 2017 report:
The Gatsby Benchmarks offer a demanding but achievable standard for school's careers and enterprise provision. The majority of schools (79.4%) achieve at least one Benchmark and most (51.0%) achieve at least two.
Some Benchmarks are easier to achieve than others. The range of achievement is between 4.2% of schools fully achieving Benchmark 1 – 'a stable careers programme' – to 45.9% fully achieving Benchmark 8 – 'personal guidance'.
20.6% of schools are not achieving any Benchmarks and on average schools are only meeting 1.87 (out of 8) of the Benchmarks.
A more detailed look reveals that many schools are partially meeting the Benchmarks. On average schools are meeting around 50% of the indicators that make up the Benchmarks and manage to achieve or partially achieve 6.4 out of 8 Benchmarks. In many cases, there are a small number of things that schools could do to boost the number of Benchmarks that they are achieving.
There is a statistically significant relationship between the schools' performance against the Benchmarks and whether they have a sixth form or not with schools without sixth forms performing better against the Benchmarks. This is accounted for by the fact that schools with a sixth form are less likely to provide students with an opportunity to encounter further education. This finding confirms the concerns of the further education sector and advocates for technical education.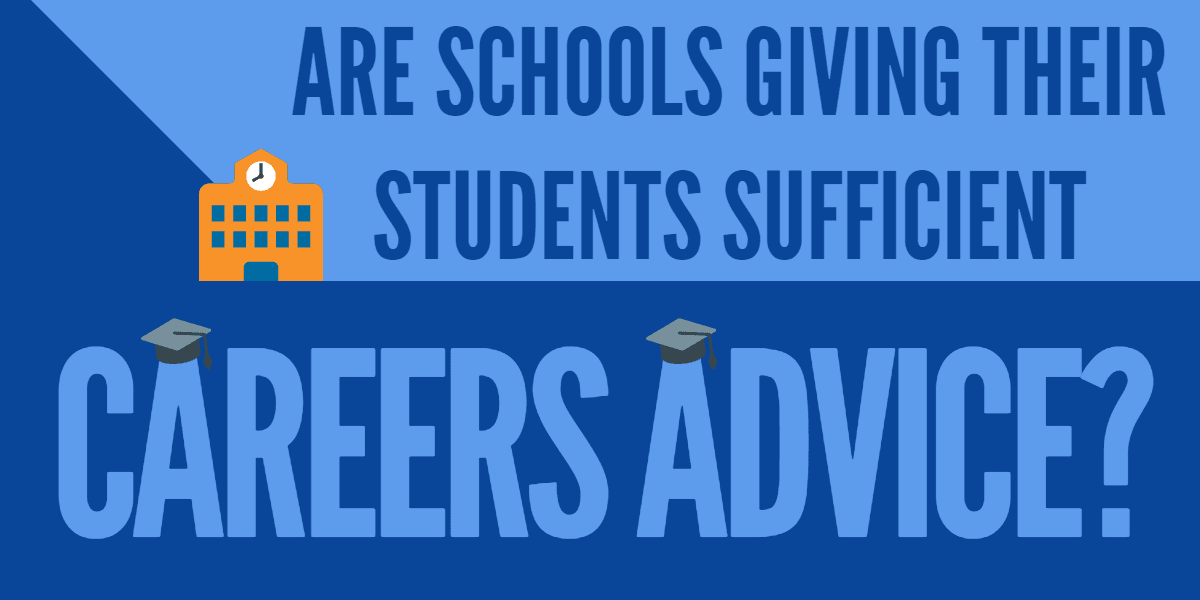 What does this tell us?
The most obvious thing that the Key Findings tell us is that schools are doing "okay" on careers guidance – but "okay" is not enough. Career programmes in some schools are only performing at an 'average' standard, and some are performing less than average. Schools with sixth forms are pushing their students to carry on at that school into years 12 and 13 and therefore the students are not getting opportunities to go elsewhere to do different things.
Most schools only have one lesson relevant to careers about once a month. However, teachers should be encouraged to consider how to bring careers advice and guidance further into the curriculum. They should try to make connections between classroom learning and young people's aspirations. An example of good careers guidance is The Bourne Academy in Bournemouth. As part of the year 10 and 11 curriculum, they teach their students to write business letters.
Half of students aged 18+ can be expected to go to University. This obviously means that half will not. These students now have opportunities to take other routes – such as apprenticeships and/or work. However, some students may not be aware of these other routes and may assume that university is the only way for them. But the other paths offer great opportunities too!
How can schools improve?
Whilst it is true that schools already track a lot of data, they should consider gathering data from what in-school career activities students have participated in and also what they have done after they have left school. With this extra information, schools can get a better idea of what activities are actually effective on their students and they can use this to improve their career programmes.
We want to know what you think! Did your school provide you with good career guidance? Did you have sufficient information on the path you wanted to take once you left school, and was it right for you in the end? Let us know…