Times are tough for everyone at the moment, and every penny that you bring in can make a really big difference to your monthly income. Wouldn't it be great if you could earn some extra cash from the comfort of your own sofa? (Let's be honest, the sofa has become our new friend during this pandemic).
We aren't talking about becoming a distributor of the latest diet products or skincare solutions, so don't panic. We are referring to our affiliate scheme; a simple and effective way to earn some extra income. You will also become a Brooks and Kirk brand advocate, helping us to spread the word about our assessor qualifications.
Tell me more…
You may have heard of an affiliate scheme before, but if you haven't here is the lowdown. It works in a similar way to a referral scheme where you receive a discount if you refer a friend to a website.
The main difference is that an affiliate scheme involves you (the affiliate) advertising our assessor courses online. For every person that clicks through from your website, social media profile, blog or email signature, we will pay you a referral fee. You don't have to worry about tracking the number of clicks either, as we will look after this for you. Earning for referring has never been easier!
How much will I earn?
To give you an indication, here are our referral fees:
£50 for referring someone onto our assessor course
£5 for referring someone onto our affiliate scheme
Not only will you be helping someone become an NVQ assessor, but you can also make a huge difference to their life. With the current unstable economy, it is likely that we will see a shift towards more people starting up their own businesses. For anyone who has recently become redundant, you could be giving them the nudge they need to progress their career as an assessor.
Here is a chart to show how much you could be earning by advertising Brooks and Kirk: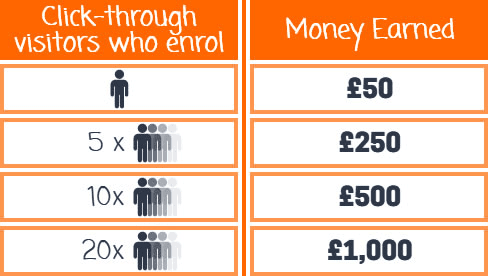 Will it cost me to be an affiliate?
Anyone can apply for our affiliate scheme, whether you are an individual or a business. Of course if you are part of a learning institution, training centre, or have an established network within the vocational training sector, you will reap the benefits on a larger scale.
Is your target audience interested in learning to become an Assessor or Tutor? If so, your website or social media page could be the perfect place for an affiliate link from Brooks and Kirk.
Sign me up
The best part about our affiliate scheme is that it is extremely easy! You can register onto our Affiliate Scheme for free, and it only takes about a minute to complete. So there really is no excuse. Alternatively, if you want to refer someone onto our courses rather than become an affiliate, we have a referral form for you to fill in too.
If you have any questions about our affiliate scheme and how it works, please feel free to contact us via email at training@brooksandkirk.co.uk. Or you can call us on 01205 805 155.