What. A. Year! Our team at Brooks and Kirk grew once again, we trained 412 people to become Assessors, 86 people to become IQA's, and 203 to become Tutors! But, besides from what happened here, there were many things that have happened in the world since January – let's have a recap.
---
---
Across The Globe
Thai Cave Rescue
On the 23rd June 2018, 12 boys and their Football Coach decided to go exploring in Tham Luang cave in Thailand after their football training. This was a favourite place for the team, who would often make a visit there. But on this occasion, they wouldn't be out of the cave until two weeks later. Once the monsoon season starts in July, the cave becomes extremely dangerous. It can flood up to 16ft, and should only be entered between the months of November and April. The boys found themselves in trouble as it had been raining for the last few days.
After two weeks of incredibly hard and stressful rescue work, all 13 people were pulled out of the cave. By the time they were out, the water levels in the cave were rising by as much as 30cm an hour! But they were all out safe and sound, much to the relief of literally the whole world! The collective rescue effort included more than 100 divers from all over the world. There was, unfortunately, one fatality: Saman Kunan, a former Thai Navy SEAL, who died while supplying oxygen to the boys in the cave.
Women Allowed To Drive In Saudi Arabia
Also in June 2018, the ban on women drivers in Saudia Arabia was lifted. The lifting of the driving ban was announced in September 2017 and is part of Crown Prince Mohammed bin Salman's programme to modernise some aspects of Saudi society. Whilst there are still limits on what Saudia women can do, the opportunity for them to drive will be life-changing!
Facebook's Data Scandal
Data firm Cambridge Analytica accessed data from 50 million Facebook users during the 2016 US presidential campaign without the users' permission, but this didn't come to light until March 2018. Using a personality quiz app for Facebook, the company accessed data not only from users who downloaded it but also the data of their friends. Though Facebook said Cambridge Analytica activities were removed from its site in 2015, founder and CEO Mark Zuckerberg testified before Congress in April 2018 and said, 'It was my mistake, and I'm sorry.'
---
Royal News
The Royal Wedding
I  think it's safe to say that every British person is a sucker for a Royal story – especially a Royal Wedding. Prince Harry and Meghan Markle were pronounced Husband and Wife in on the 19th May 2018 after a ceremony in front of the Queen, 600 guests, and televised to more than 50 million people in Britain and the U.S alone. Not that your wedding would be nerve-racking enough in front of the Queen – but 50 million people! Nope. Nope. No thank you.
Now they are expecting their first child in 2019! Oh, and speaking of Royal Babies…
Prince Louis of Cambridge
Prince Harry's older brother, Duke of Cambridge Prince William and his wife Kate, the Duchess of Cambridge, gave birth to their third child Louis in on the 23rd April 2018. He's now 5th in line to the throne (Harry just keeps getting pushed further and further back doesn't he?!). Prince Louis was first seen in public seven hours after his birth, outside the Lindo Wing of St Mary's Hospital. On 27 April 2018, it was announced that the baby had been named Louis Arthur Charles!
---
The Animal Kingdom
The Australian Cow
I know they say everything is bigger in Australia; the spiders, the snakes, and pretty much any insect you could ever think of. But a 6 foot 4 cow (or, technically, 'steer') was just shocking! Just look at this thing!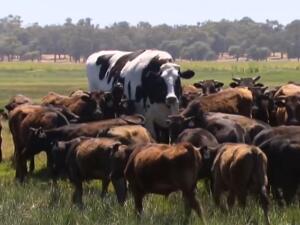 The 7-year-old giant cow, named 'Knickers' (I have no idea why) who lives in a field in Western Australia, was getting a lot of attention from the internet in November 2018. How on earth did he get so large?! His owner, Geoff Pearson said:
'Partly it's because Knickers was given the chance to grow to his full height. Steers are usually sold to processing plants at the age of two or three years. They probably don't have the opportunity to grow to their full potential. There could be other animals that could grow to this size but didn't get the chance.' Oh. Ouch.
Sudan, The White Northern Rhino
Whilst this story has a much different mood to it than the previous, it still holds on to hope. In March 2018, Sudan the 'gentle giant' who lived in the Ol Pejeta conservancy in Kenya, was put down after the pain from an illness became too much. He was the last male White Northern Rhino left in the world – leaving behind two females, his daughter and his granddaughter. But conservationists are still hoping that by using IVF, the species can be saved from extinction. We can only hope!
Roger The Kangaroo
Another famous animal which we, unfortunately, lost in 2018. Roger 'the ripped' Kangaroo became famous back in 2015 when a video of him crushing a metal bucket went viral. Sorry, but look at him.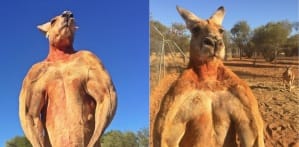 How does a Kangaroo even get like that?! Roger weighed 14 stone and stood at 6 foot 7 inches tall – equal height to the likes of Greg Davies and Richard Osmon. We all know they are taaaaall fellas. His death sparked an outpouring of grief from his 1.3 million Facebook and Instagram fans.
What Does Your Dog Do Whilst You're Out?
I couldn't help but add this into this section – I didn't want it to end on such a sad note. This hilarious video was uploaded to YouTube in February 2018 and well.. I think it speaks for itself.
---
Medical Advances
A Potential Cancer Vaccine
In 2018, Stanford University researchers announced that they were recruiting lymphoma patients in a clinical trial to test a potential cancer vaccine. The treatment involves injecting immune-stimulating agents into solid tumors; in trials on mice, this has been shown to eliminate 'all traces of cancer in the animals' without side effects of traditional immunotherapy.
They use a one-time application of very small amounts of two agents to stimulate the immune cells only within the tumor itself. In the mice they saw many outstanding effects including the elimination of tumors all over the animal.
If human trials are successful, Dr. Levy says that it could potentially treat all different types of cancer tumors!
Robot-Assisted Surgery
The first robot-assisted surgery on a human eye took place in June 2018. Researchers took on 12 patients who needed retinal surgery. One group was randomly assigned to robot-assisted surgery, while the other group received traditional manual surgery.
Both methods of surgery were equally effective, though robotic surgery took much longer to perform. Still, this research is paving the way for robots to perform surgical procedures that require more precision than human hands can offer, in the future.
---
Viral Videos
Where do we even begin with the number of videos that have gone viral this year?!
Yanny VS Laurel
The audio clip that ripped the internet apart – it was worse than the gold/blue dress incident (don't even go there).  The Yanny VS Laurel audio clip went viral in May 2018 and, not to be dramatic, but completely divided the world. Celebrities who responded to the auditory illusion included Ellen DeGeneres, Stephen King, and Chrissy Teigen. In a video released by the White House, members of the Trump administration also gave their verdict! What do you hear? (It's obviously Laurel)
Baby Shark
Baby Shark is a song popularised by social media, which is thought to have been around for a long time before another version of it was produced by a South Korean company called Pinkfong!. It was their version that launched the viral craze, which started in Southeast Asia. Once you've heard it, you'll never forget it. It sticks in your head permanently. Baby Shark do do do do do do.
The Yodelling Walmart Kid
From Walmart to Coachella, 11-year-old Mason Ramsey shot to fame when a video of him singing – sorry, yodelling – Hank Williams' 'Lovesick Blues' in Walmart in his hometown was uploaded to YouTube back in April 2018. As a result of his newfound fame, Mason made an appearance on the Ellen DeGeneres Show. He told her that his dream was to appear on Grand Ole Opry one day. Then, Ellen surprised Mason by saying he had been booked there for the following weekend, and Walmart had given him $15,000 for a college scholarship! Aw.
David Schwimmer Doppelganger
In one of the much stranger stories of 2018, Police in Blackpool shared a picture on their Facebook page in October 2018 of a man stealing from a shop. The man in question had a striking resemblance to David Schwimmer's character in Friends, Ross! They asked the public for help in identifying the thief who had a shifty look on his face as he looked at the camera carrying a crate in a now-deleted Facebook post. This video explains the whole situation perfectly, and includes some of the hilarious comments on the post! To be honest, we thought they should lay off him. He grew up with Monica – IF YOU DIDNT EAT FAST YOU DIDNT EAT!
---
So, THAT is what happened in 2018. We can't wait to see what stories come out of 2019! What's your favourite news story of last year? Let us know…
Happy New Year to you all!