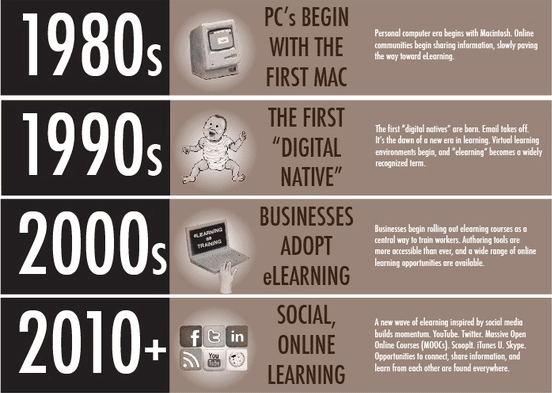 Since the term 'e-learning' was first used in 1999, there has been a rapid growth in technology and it's part to play in vocational training. We have gone from the invention of the first Macintosh PC to Massive Open Online Courses (MOOCs) in just over 30 years. So, the question is, what will e-learning look like in another 10 years time? And, will this make the quality of vocational training better or worse?
If you search 'online training' on Google, over 1.3 billion results come up in under 0.3 seconds. It is now such a familiar way of training, we probably take it for granted. The growth in e-learning correlates with the developments in technology and it's importance in businesses. Now that the vast majority of businesses incorporate computers in one way or another, e-learning has made vocational training much more efficient. But whilst e-learning is making the delivery of National Vocational Qualifications (NVQs) more effecient, it could also potentially be endangering the quality of the delivery at the same time.
We have had a large number of learners compliment us on the flexibility and helpfulness of our online learning system. Some of these learners have gone on to describe some of their poor experiences with online learning in the past. Including one learner who spoke about how they were registered on to a virtual learning environment and then left on their own to complete the work, with no assessor and no feedback on any of the work they submitted. As online training increases in popularity so will these kind of experiences. Colleges and training providers need to ensure that they don't lose touch with what their learner's needs are and how to meet those needs most effectively.
Just yesterday the education secretary, Nicky Morgan announced that technology giants such as Google and O2 are to support a £3.6m drive to teach computing skills in primary schools in England. With computing skills being taught at an even earlier age, it's likely that this will make e-learning courses even more popular in years to come.
But just like marmite, e-learning won't always be for everyone. There are a lot of people who would prefer to attend classroom based courses as oppose to doing their training online. This is where blended learning comes in. We deliver our Assessor courses using blended learning, which means that we deliver part of the course online and part face-to-face. Blended learning is the most effective way to incorporate e-learning into NVQs. Realistically, NVQs should never be delivered entirely online, because of that fact that the learner needs to be able to demonstrate occupational competence. Although, with the way that e-learning and technology is growing, who knows whether or not that will still be the case in ten years time.