Here you will find a brief overview of what's been going on in the training world over the last week, as well as a completely random story that we hope you'll enjoy as much as we did!
FE & Skills General Election Q&A with Conservatives, Labour and the Liberal Democrats
The Conservatives, Labour and the Liberal Democrats have all come in for grilling with a host of questions from FE and skills figures.
You can read what Mathew Hancock had to say on behalf of the Conservatives here.
You can read what Shadow Skills Minister, Liam Byrne had to say on behalf of Labour here.
The Lib Dem's spokesperson will be giving their answers this afternoon.
Birmingham Met to axe up to 250 jobs – The first of many?
As many as 250 jobs are set to be axed at Birmingham Metropolitan College. College bosses have blamed government funding cuts after staff at the college, which is one of the largest in the West Midlands, were told 200 to 250 jobs were at risk in a bid to cut costs "significantly".
There is a big worry that these kind of staffing cuts could become more common amongst FE learning providers as a result of the 24% cut in adult skills funding.
U3A – 'The only real university left in Britain'?
The U3A or University of the Third Age, which now provides courses to as many as 350,000 pensioners, doesn't look anything like the model of a modern university. It costs almost nothing to attend and does nothing for your prospects of future employment.
It neither gives nor recognises any qualifications. Some of the teachers may be weighed down with doctorates but there's no demand for any qualifications. Its students come there for the delight of learning alongside other people driven by the same need.
Read more on why Andrew Brown from the Guardian believes the U3A is the only 'real' university left in Britain.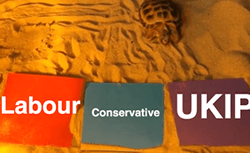 Who will win the 2015 general election? One guy (tortoise) thinks he knows.
People may say the general election is too close to call. However, Sheldon the psychic turtle, doesn't think so!
Sheldon has already made several accurate predictions, including the winner of the voice. Obviously, he could be blagging it and not be psychic at all. But I suppose we will just have to wait until May 7th to find out!
Watch Sheldon make his decision on who will win the election.