We're back again for another Throwback Thursday!
Today, we're throwing it back to 3 years ago, in January 2015 when we posted a blog on the growth of e-learning. Since the term e-learning started being used in 1999, there's been a substantial growth in technology. We're wondering what e-learning will be like in another 30 years! Click the picture below to find out more…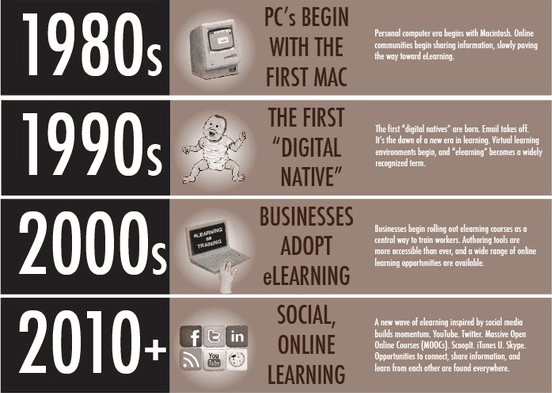 What else happened on the 18th January?
In 1486 (532 long years ago!), King Henry VII of England married Elizabeth of York (daughter of Edward IV).
Fact; King Henry VII is Queen Elizabeth II's 14x great grandfather!
---
In 1892, one half of Laurel and Hardy, Oliver Hardy, was born in Harlem, Georgia. If he were alive today, he would be 126!
Fact; Oliver Hardy was born Norvell Hardy. He added the Oliver in sometime around 1910, as a tribute to his father. From then on, he used his name as Oliver N. Hardy in all legal documents, census', marriage documents, etc.
---
In 1919, the Paris Peace Conference opened (also known as the Versailles Peace Conference). Basically, this was a meeting with the purpose of establishing the terms of peace after World War 1.
Fact; The big four people who were involved in the Paris Peace Conference were the Prime Minister of France, Georges Clemenceau; the Prime Minister of the United Kingdom, David Lloyd George; the President of the United States, Woodrow Wilson; and the Prime Minister of Italy, Vittorio Emanuele Orlando.
---
In 1992, it was the 49th Golden Globes. The winners this year included Jodie Foster for Best Actress in a drama, Nick Nolte for Best Actor in a drama and Thelma and Louise for Best Screenplay!
Fact; The first telecast of the Globes was in 1958, and until 1963 it was only aired locally in L.A.
Who's celebrating today?
Michelle Obama, the wife and First Lady of the 44th President of the United States Barack Obama, turns 54 today! Happy Birthday, Michelle!
Fact; Michelle studied at both Princeton and Harvard University.
---
Golden Girl Betty White is also celebrating her birthday today, turning 96! Happy Birthday, Betty!
Fact; Betty is the oldest person ever to host Saturday Night Live, in May 2010 at 88 years old.
---
That's all for this week! We'll see you next week for another Throwback Thursday.