Here you will find a brief overview of what's been going on in the training world over the last week, as well as a completely random story that we hope you'll enjoy as much as we did!
If you are working in the FE sector, you may have noticed that you have been more stressed recently…
Working in FE today is more stressful than at any point in the last six years due to workloads and constant change, a survey by the University and College Union (UCU) has suggested.
The report, Taking its toll – rising stress levels in further education, showed how 87 per cent of staff who took part in the survey last year agreed or strongly agreed that their job was stressful, up from 78 per cent in 2012 and 74 per cent in 2008.
Race is on for 3m apprenticeships
The creation of 3m apprenticeships by 2020 is a "significant challenge" that can only be achieved with more funding and employer engagement, sector leaders have said.
The Conservatives made the target acentral plank of their General Electionmanifesto.However, it would require a huge increase on the 2,208,100 apprenticeship starts over the five academic years from 2009/10 to 2013/14.
Javid — will he be Treasury stooge or FE friend?
Prime Minister David Cameron has appointed the Conservative MP Sajid Javid as Business Secretary in his new majority government.
He replaces Vince Cable, the Liberal Democrat who held the post for the last five years until he lost his seat in Parliament on May 7.
A former banker and Treasury minister, Sajid Javid is seen, by the business community at least, as a safe pair of hands. But will his FE background be enough to win over a sector demanding more attention and funding?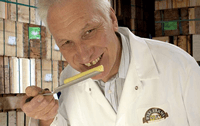 Is your nose worth £5m?
Nigel Pooley, 69, has worked at the family-run Wyke Farms for the last 18 years, and selects more than 12,000 tones of cheese every year with his expert sense of smell. He rates his sniffer so highly that he has had his nose insured for £5 million.
Read more about the 5 million pound nose.