The Workers' Educational Association (WEA) published their annual impact report last week. Within it, they explored the various benefits that society reaps from adult education. These benefits were grouped into five different areas: Employability, Health and wellbeing, Skills development, Community engagement and Family. And we're going to having a look at a few of these benefits in this post.
So, if you like a good statistic, then this post will be a treat for you!
Firstly, for those of you who don't know who the WEA are or what they do; they are a voluntary sector education provider. Their latest study focused on the positive impact lifelong education can have on individuals. Here's all you need to know about their research.
The WEA's research
The WEA's impact report compiled responses from course completers in the Autumn term of 2016. They sent out online surveys to all of their students who had an email address and they received 4023 complete responses. This included a variety of students who had all completed courses in different subject areas. In addition to those that did respond to the survey, the WEA also accounted for 'different probabilities' for those who didn't respond. This meant that they were able to say that their survey results represented the entire WEA student base within a margin error of 1.3%.
What their report found
Employability – prospects improve through adult education –
57% of students who were unemployed and looking for work before the course became employed after
66% of those who were unemployed and looking for work felt more confident about finding employment
62% of employed students gained new skills or knowledge that could be used in a job. This rose to 88% for students with no qualifications and 84% for BAMER students (Black, Asian, Minority Ethnic and Refugee)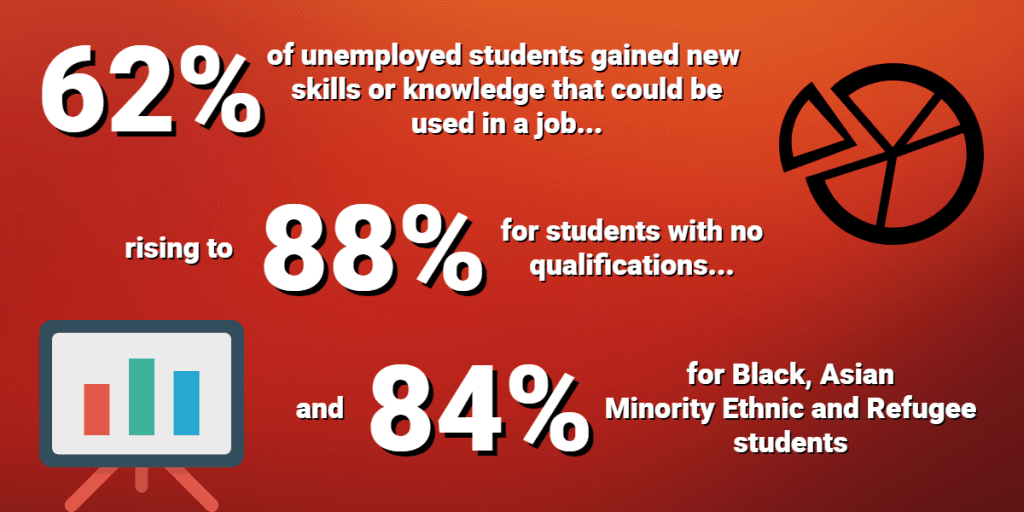 Health and well-being – lives improved through community learning –
57% felt that the course helped to reduce stress and 50% of students reporting health problems felt that the course helped them handle stress better
82% students with mental health issues reported improvements in their condition (74% reduced stress and 71% managed stress better)
72% of students reported an increase in confidence
Skills development – increase in acquiring and developing skills –
63% improved their communication skills with over a third improving language and literacy skills
62% reported enhanced critical thinking skills
43% saw an improvement in their problem-solving skills
Community engagement – improved community living through adult learning –
48% reported being more understanding of other cultures
38% felt they were more respectful of difference than they were previously
27% felt a heightened sense of belonging to Britain than before their WEA course
333% became more interested in improving their local area after undertaking their course
16% of students became more likely to vote than before
Family – improved parenting and family life –
65% of WEA students with children under 18 improved their confidence in helping their children with reading, writing or maths as a result of their course
47% helped their children with their schoolwork more (rising to 61% for those with no qualifications)
45% encouraged their children to live a healthier lifestyle as a result of their WEA course
Trevor Phillips, Chairman of the WEA says; 'The need for community learning in today's society is more important now than it ever has been since the WEA began in 1903. The findings in this report provide vital evidence of how lifelong learning or community learning positively transform the lives of thousands of people across the country.'
So, therefore…
All things considered, lifelong education is a major opportunity that can leave positive life-changing effects. Regardless of your background, anybody can get into lifelong education and gain the ability to turn their life around.