Here you will find a brief overview of what's been going on in the training world over the last week, as well as a completely random story that we hope you'll enjoy as much as we did!
It's possible up to 1,600 qualifications could be axed from 2015.
The Skills Funding Agency announced that there are 700 Qualifications that are fairly certain to be scrapped due to no demand. A further 972 qualifications are also at risk due to a very small take-up.
Of the 700 vocational qualifications that will be binned off, just under 300 of these are Level 3.
'Apprenticeships for 14 to 16-year-olds should make a comeback'.
The young apprenticeship, which consisted of two days a week in the workplace, alongside maths, English and other subjects, was scrapped in 2010 due to fears over cost.
Sector experts put forward their case to the House of Commons Education Select Committee last week, whereby they all agreed that a return for the programme could help prepare young people for the workplace and further training before turning 16.
Are parent's opinions of further education changing for the better?
In a recent survey of over 3,500 parents, only 8% thought studying for a history degree at university would make a graduate 'very employable'. Now compare that to 57% for a plumbing qualification or apprenticeship!
Perceptions are changing, and parents clearly recognise the value of an education that effectively prepares young people for employment.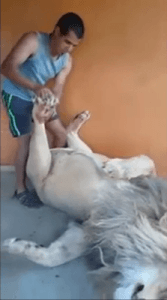 Lions do have their softer side.
An amazing video has emerged of a lion enjoying a foot massage. Click here to see the lion rolling on his back as he receives a good old foot-rub from his owner.