Here you will find a brief overview of what's been going on in the training world over the last week, as well as a completely random story that we hope you'll enjoy as much as we did!
What will 2015 have in store for Further Education?
There are lots of discussions about what the new year will have in store for the FE sector. Kirstie Donnelly, managing director of City and Guilds speaks about some of the challenges that the sector is likely to face in the new year and what may need to be done to deal with these challenges. 
Ms Donnelly talks about how more budget cuts are inevitable in the FE sector, consequently learning providers will have to do more with less. Could more online digital courses could be the way forward for more cost effective training? If so, could this lead to a deterioration in the quality of training provided?
Ensuring new skills policies don't threaten improvements in quality
One of the most important documents of 2014 was the Ofsted Annual Report. The main findings were very positive with the proportion of providers with good or better results increasing and improved teaching and learning.
The report recognised that 'not enough providers held employers to account' when it came to Apprenticeships. This is an interesting perspective, especially when we are looking at giving employers more ownership of the programme.
In the main summary of the report, Ofsted say say that 'giving purchasing power to employers is an important step', using the terminology that the Association of Employment and Learning Providers (AELP) has used, i.e. 'Purchasing power', not necessarily direct funding.
How Babson College from Massachusetts has transformed the entrepreneurial thinking of some UK colleges…
An intensive four-day programme, known as the Symposia for Entrepreneurship Educators, helps senior leaders in FE explore how they might encourage entrepreneurialism in their organisations.
City Norwich College are one of the few UK colleges that have benefited from this programme. They decided to plaster a mini bus with photos of college lecturers – along with an invitation to spend a day shadowing one of them. This unusual marketing strategy cost just a few hundred pounds.
Deputy Principle at City Norwich College, Jerry White speaking on the entrepreneurial idea;
"We're not going to run a £50,000 marketing campaign without proof it will work. But we have got a minibus with a trailer on the back and we've got a print room that can run off a poster you can stick on the back with a bit of wallpaper paste or whatever. So we'll have a look at social media traffic and a few other measures to see what kind of impact it's had and take it from there."
An emu that clearly has no time for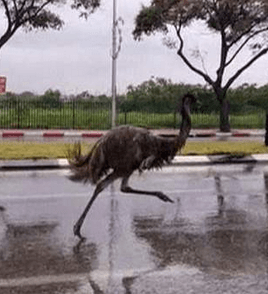 rush-hour!
It's not everyday that an Emu overtakes you when you're stuck in traffic!
The bird was filmed zigzagging through traffic in the Israeli coastal town of Herzliya in the pouring rain on Sunday.
The bird was reported to be running at a pretty impressive 25mph! Watch the speeding emu.