Here you will find a brief overview of what's been going on in the training world over the last week, as well as a completely random story that we hope you'll enjoy as much as we did!
Maths GCSE teachers are going to be on the rise in FE.
The Education and Training Foundation (ETF) will run a second wave of training courses aimed at increasing the number of maths GCSE teachers in the Further Education sector.
More than 2,200 people completed the course, which concentrated on preparing Functional Skills maths teachers to teach GCSE, by the end of the last academic year.
"Zero-hours contracts are forcing me out of teaching"
An anonymous person tells The Guardian how they have been forced out of teaching by a lack of job security. They speak of how zero-hours contracts are becoming the death of teaching roles;
"I feel inhuman. A zero-hours contract means everything is a crisis, and if you're not in one you're anticipating the next one."
The anonymous source says how after they have written this piece, they are going to be leaving the profession they love to work in a supermarket, just so they can be sure that their job is secure.

Small businesses encouraged to hire more apprentices.
Following on from the news last week that there has been another drop in the total apprenticeship starts for the second academic year running, George Osborne announced in his Autumn Statement that employers will be exempted from national insurance contributions when they hire apprentices under 25.
"When a business is giving a young person a chance in life we're going to support them, not tax them,"
The Chancellor goes on to say that there will be £500m for the enterprise finance guarantee scheme, which backs lending to small businesses, and £400m for enterprise capital funds, which invest in small businesses.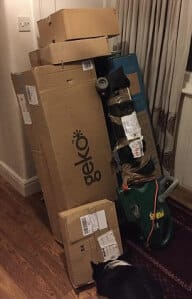 Christmas has come early for a student that has received 46 free gifts from Amazon!
A student from Bromley has been told he can keep a £3,600 haul of goods from Amazon including a television and tablet computer after he was sent them because of a computer glitch.