Here you will find a brief overview of what's been going on in the training world over the last week, as well as a completely random story that we hope you'll enjoy as much as we did!
Latest figures show all-age Apprenticeship starts down for the second year running!
For those of you that like numbers, total Apprenticeship starts were at 440,400 last academic year. That's down 13.7 per cent, having been at 510,200 the previous year.
However, one positive note in the apprenticeship figures was that 16 to 18 starts were continuing to recover and were up on 2012/13, from 114,500 to 119,800 (4.6 per cent).
Apprentices contribute £34 billion a year to the UK economy
This comes ahead of the 'Made by apprentices 1914 – 2014' event today on board HMS St Albans, marking 100 years of apprenticeships. It was revealed that the ratio of benefits to costs of apprenticeships is £21 for the national economy for each £1 of public money spent.
These figures come from new research conducted by the Centre for Economics and Business Research (Cebr). Another quite impressive fact that came out of this research was that; Unemployment is reduced with £370 million gained from saved benefits per year, thanks to around 99,000 extra employed people as a result of apprenticeships.

Degree apprenticeships launched to boost hi-tech skills
Young people will be able to gain a full honours degree while earning a wage and paying no fees, under a scheme backed by government and industry.
Some 150 places have already been guaranteed on the programme by the employers involved, in subject areas ranging from software design to information technology for business.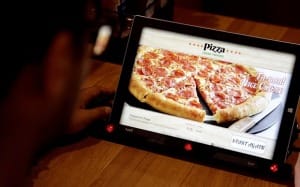 If only you could order food with your mind…
Pizza Hut has created a 'subconscious menu' that lets you order your perfect pizza just by looking at a screen. Whatever next!