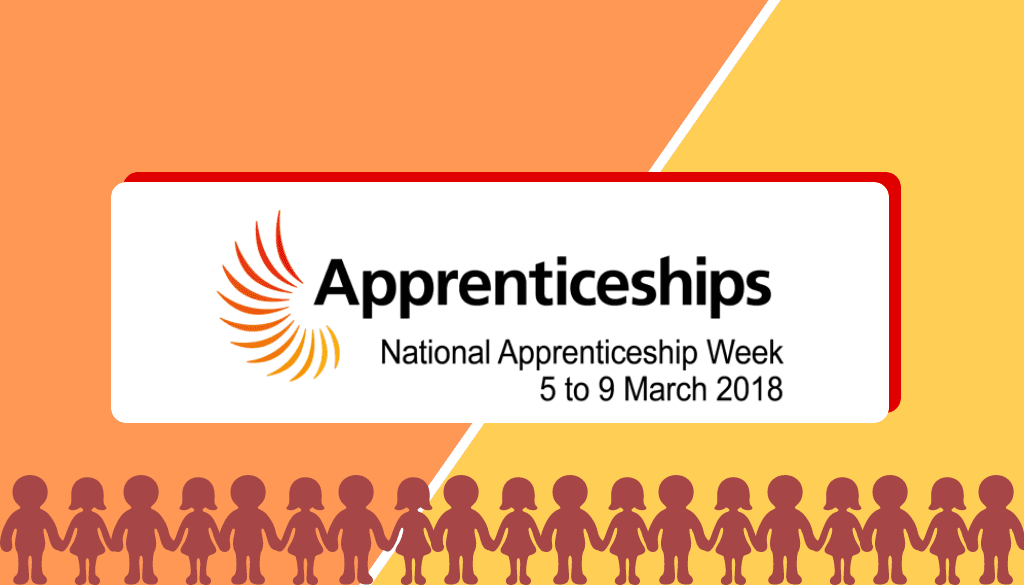 This week is a special one for the Further Education sector, as it is the 11th National Apprenticeship Week (#NAW2018)! This year, the theme is 'Apprenticeships Work'. Throughout the week, employers and apprentices from across England will be showcasing how and why apprenticeships work for individuals, employers, the community and the wider economy.
During National Apprenticeship Week 2018, the success of apprenticeships will be recognised and celebrated. Whilst the celebrations go on, employers and apprentices will be encouraging even more people to choose apprenticeships as a pathway to a great career.
An Introduction to #NAW2018
The first National Apprenticeship Week was held in 2007 with the hope that it would bring more attention to the benefits of apprenticeship training around the country. It's safe to say that the week was a success considering the week-long event is still going 11 years later.
Anyway, 2 years later in 2009, the National Apprenticeship Service was launched to guide and moderate the delivery of apprenticeships.
Here's a quick video of Sue Husband, director of the National Apprenticeship Service, introducing the theme for this week.
Events Near Our Centres
National Apprenticeship Week will be marked by different events all over England. We had a look at whether there we any events close to our Brooks and Kirk offices, and to no surprise, there are quite a few!
Boston Office – Skegness
The seaside town of Skegness will be having an 'Apprentice Information Session' on Thursday 8th March 2018. This particular event is a great opportunity to meet the Lincolnshire Community Health Services NHS Trust.
Anyone attending this event will be able to see how the LCHS support their workforce with the use of apprenticeships. They will also be able to discover how to start and develop their careers by joining the NHS. Universities, training providers and NHS staff will be there to chat with on the day!
London Office – Park Royal
A few miles North West of our office in Fulham, there will be an Apprentice Information Session in Park Royal at one of the four Ferrari Dealerships that are in London. This event will actually take place on Saturday 10th March 2018.
So, the information session hosted by H.R.Owen Ferrari will take place from 10 am – 1 pm. It's is a brilliant opportunity for aspiring Ferrari apprentices to have chats with current apprentices and technicians, ask questions and get to grips with how an apprenticeship at Ferrari would work. Events like these are what make National Apprenticeship Week so good, as these opportunities are very rare!
London Office – St James'
On Thursday 8th March, Umbrella Training will be hosting the 'Purple Umbrella Awards'. This will take place North East of our London Office at The Ritz in St James' at 6.30pm.
This particular event will be an Apprentice Awards Ceremony. The evening will all be about celebrating the achievements of past and present apprentices who either have or still do work at Umbrella Training. The best of the best apprentices and employers will be celebrated!
Birmingham Office – City Centre
As for events close to our Birmingham Office, a seminar will be held by Unionlearn on Friday 9th March. The purpose of the seminar will be to highlight Unionlearn's role in supporting the expansion of high-quality apprenticeships.
The seminar will also involve tackling the barriers that prevent underrepresented communities (such as BAME) from being recruited by employers. There will be a number of presentations aiming to supply unions with the tools and expertise to build their role in support of high quality and accessible apprenticeships, including best practice case studies.
Birmingham Office – City Centre
3aaa will be having an Apprentice Information Session at The McLaren Building in Birmingham. This will take place on Wednesday 7th March at 4 pm and will consist of a variety of activities.
There will be an Apprenticeship taster session, a chance to get direct experience of the learning facilities, meet trainers, find out exactly what programmes 3aaa have to offer and CV/interview tips and techniques. Career advisors will be attending so people can discuss their options with them and find out what apprenticeship would suit them the most.
Manchester Office – City Centre
Further up North from all our other offices, in Manchester, there's another event held by 3aaa! This will be an Apprentice Information Session and will be on Wednesday 7th March at 4 pm, much like Birmingham.
This event will actually be very similar to the one being held in Birmingham – apart from the location, obviously. Meaning, there will be an Apprenticeship taster session, a tour of the building, and a chance to meet current apprentices. Just as equally important, rumour has it that pizza will be supplied…
Manchester Office – Heaton Chapel
South East of the City Centre in Heaton Chapel, there will be another Apprentice Information Session. This event is also on Wednesday 7th March and it start's at 7.30am! The difference is, is that this event is specific to people interested in an engineering apprenticeship.
SETA will be hosting the open day. The idea is that prospective engineering apprentices will be able to have a look around the facilities and discuss the options that they have regarding an apprenticeship through SETA. These apprenticeships may be in Electrical, Mechanical, Maintenance, Fabrication & Welding and Design & Draughting Apprenticeships. As a matter of fact, SETA has invited a number of companies who are looking to recruit apprentices in these areas. The companies who are attending will be available to have discussions with about the opportunities they are offering.
If you want to see what other events are going on this week or see if there are any events more local to you, take a look at the National Apprenticeship Week Events Map.
Alternatively, if you're curious about what some of our staff members thought of the apprenticeships they completed with us, our blog on 20% off the job training has it all!
Look out for our blog post next week on the highlights from National Apprenticeship Week 2018!