Here you will find a brief overview of what's been going on in the training world over the last week, as well as a completely random story that we hope you'll enjoy as much as we did!
Provider hit with grade four rating after just one apprenticeship achievement in two years
A Hampshire-based independent training provider with 118 apprentices on hairdressing, business management and customer services frameworks, was issued with a grade four rating by the education watchdog following inspection in January.
Kats Learning Ltd has a current Skills Funding Agency (SFA) allocation of £334,080. Even though they were previously rated as good by Ofsted, they fell to a grade four following their most recent visit, in which inspectors noted that just one apprentice had achieved their goal.
Labour plan face-to-face careers advice for all teenagers to include 'high quality apprenticeship' guidance
Sector leaders have welcomed Labour plans announced today to give every teenager face-to-face careers advice — including guidance on "high quality apprenticeships and technical degrees".
A Labour spokesperson said it would involve all secondary school and college pupils "getting guaranteed face-to-face advice from trained careers advisers, beginning at the age of 11" and ensure that "teenagers learn about high quality apprenticeships and technical degrees as well as traditional academic routes into universities".
Making work experience 'meaningful'.
The DfE states that work experience must be 'meaningful'. In Ruth Gilbert's (chief executive of the Colleges Career Trust) latest article on fenews.com, she asks what exactly is this and is it achievable for a 14, 15 or 16 year old?
Ms Gilbert argues that it is, however too many people imagine work experience to be something you do in an office for one or two weeks, as well as believing that SMEs can't or won't engage as they don't have the resource. Do you agree?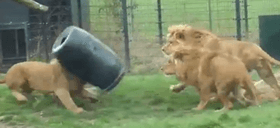 One lion that well and truly got 'stuck in' to his dinner.
A greedy lion was left trapped inside its own feeding barrel after attempting to snaffle meat away from the rest of its pride.
Watch the overly greedy Lion as he tries to get unstuck.