Here you will find a brief overview of what's been going on in the training world over the last week, as well as a completely random story that we hope you'll enjoy as much as we did!
What does the government's productivity plan mean for FE and skills?
The Treasury this morning published its eagerly-awaited productivity plan. Here are the main headlines from the plan for the FE and skills sector:
Apprenticeship Levy

Funding

Technical Education

Destination Data and Careers Advice

Devolution and Localism
Find out more about the plans for each headline
Summer budget: Osborne announces apprenticeship levy for large businesses
Mr Osborne's budget announcement comes after Professor Lady Alison Wolf called for such a levy, but on all employers, in a report released by the Social Market Foundation last week.
Employer and FE sector bodies are still digesting the announcement, along with others relating to FE in the Budget (listed below), but Professor Wolf's universal levy proposal was rejected by the Confederation of British Industry, while the Association of Employment and Learning Providers was also sceptical.
Funding agency unable to approve growth requests after Budget – despite assurances
Providers had originally been told the deadline for them to find out from the SFA if they would be paid for apprenticeships, and other programmes, they had already started delivering was the week commencing June 1. However, on the 8th of June, the SFA wrote to providers warning that the announcement would instead take place following the government's emergency budget, which was unveiled by Chancellor George Osborne yesterday (Wednesday).
Now, after Mr Osborne's budget, an SFA spokesperson has said: "We are working with BIS on the outcomes of the Chancellor's budget and will be communicating to the sector shortly on the outcome of growth requests for 2014/15 and 2015/16 financial position."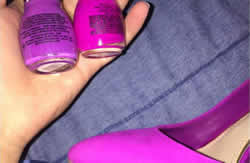 The Mind-boggling Shoe
A Twitter user from Boston tweets a picture of a shoe and two different nail polishes, asking which polish best matched the shoe.
#theshoe has now gone viral as thousands of people struggle to agree on which colour matches.
So, which nail polish do you think matches? 
Have a closer look at #theshoe.