Here you will find a brief overview of what's been going on in the training world over the last week, as well as a completely random story that we hope you'll enjoy as much as we did!
SFA wins provider allocation deal with BIS to stop budget cuts hitting 32 per cent
The Skills Funding Agency (SFA) has struck a deal to 'cushion' funding cuts at 24 per cent for the non-apprenticeship part of the adults skills budget (ASB), as opposed to a maximum of 32 per cent in their initial modelling.
Peter Lauener, SFA and Education Funding Agency (EFA) chief executive (pictured), wrote to providers late last month outlining a cut of a quarter for the non-apprenticeship part of the ASB. However, this did not account for the new allocation protections given to Traineeships and English and maths.
To afford the additional protection, providers delivering no apprenticeships, traineeships nor English and maths were going to be facing cuts to their ASB as high as 32 per cent.
Sector welcomes 'biggest ever' apprentice minimum wage rise
An inflation-busting 20 per cent rise in the national minimum wage for apprentices announced today by Prime Minister David Cameron and his deputy, Nick Clegg, has been welcomed by the FE and skills sector.
The rate paid to apprentices will rise from £2.73 an hour to £3.30 in October, as the adult national minimum wage rises from £6.50 to £6.70.
More than 23,000 new apprenticeships were pledged by employers as part of National Apprenticeship Week last week
The outcome of an initial government evaluation of the first year of the programme found that half of trainees went on to apprenticeships or employment, and a further 17 per cent undertook further learning.
BT have committed to hiring 700 apprentices, Microsoft Partners have announced plans to recruit 3500 apprentices and Greene King have also announced 2000 apprenticeship vacancies. These are just 3 of the 285 businesses that have made their pledges through the Online Apprenticeship Pledgeometer.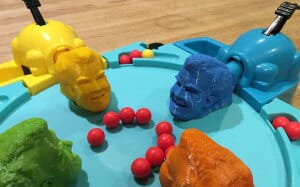 Clarkson 'fracas' inspires 'Hungry Hungry Clarksons'
I'm sure you have all heard about the allegations involving Jeremy Clarkson and a producer. But, I'm not so sure you will be aware of the brilliant idea someone has had for 'Hungry Hungry Clarksons'.
The classic Hungry Hungry Hippos game has been modified with the aid of a 3D printer to feature caricature heads of BBC presenter Jeremy Clarkson after a "fracas" involving him and a producer apparently caused by the unavailability of a steak.