Interested in Further Education? Here's the latest from the FE world over the last month.
Apprentices minimum wage up 20%
Business Secretary, Sajid Javid said that the inflation-busting increase, from the old £2.73-an-hour to £3.30 an hour, was "the largest in history, making sure that apprenticeships remain an attractive option for young people".
This came as the adult NMW also increased this morning from £6.50 to £6.70.
Government's Careers Company announces roll-out of 'enterprise advisers' for young people
Mid-September saw the government's Careers and Enterprise Company announce the roll-out of its piloted system of 'enterprise advisers' to go into colleges and schools.
The plan, announced in July, is for all 39 local enterprise partnerships (Leps) across the country to employ 'enterprise co-ordinators' to work with the advisers — with 28 Leps initially taking part from this month.
Large employers' apprenticeship levy cash should go into one pot to benefit firms of all sizes, AELP tells government
Cash raised by the proposed new large employers' apprenticeship levy should be combined with government funding in a central pot available to all employers of all sizes under a "simple" new system, the government has been told.
The Association of Employment and Learning Providers (AELP) made the proposal in its submission to the government consultation on the levy proposals. In which it said:
"Our overarching view is that we must keep this system simple, so we would be much clearer that any money raised by the levy goes into a single fund (for England) which would be combined with any investment funds allocated by the government (currently £1.5bn).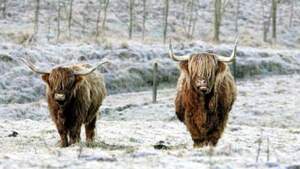 How many words can you think of that can replace snow?
If the number of words is shy of 400 then the scots have beaten you! They have over 400 words for snow!
Academics have been collecting the words used by Scots in place of "snow" and have officially recorded 421 terms, including "flindrikin" and "snaw-pouther".
Find out more about the chair wearing cow.