Here you will find a brief overview of what's been going on in the training world over the last week, as well as a completely random story that we hope you'll enjoy as much as we did!
Young benefits claimants who can't find work will be forced onto apprenticeships or traineeships
The government's new Earn or Learn Taskforce will oversee plans to force young benefits claimants onto apprenticeships or traineeships if they do not find a job or acceptable unpaid work.
The "troubleshooter" taskforce was launched earlier this summer to track government progress on its target for 3m apprenticeship starts by next parliament.
Ten new Careers Colleges set to open at existing FE colleges
Six FE colleges are preparing to open 10 new Careers Colleges over the next two academic years, with the potential another 15 to open by 2019.
Former Conservative Education Secretary Lord Baker first announced plans in October 2013 to create a series of Careers Colleges, focussing on training from 14 years old with each specialising in a different sector and working directly with employers, at existing FE colleges.
Number of young people not in education, employment or training falls again
Latest official statistics have shown the proportion of young people not in education, employment or training (Neet) in the UK has continued its downward trend.
An Office for National Statistics (ONS) report published today said that there were 922,000 16 to 24-year-old Neets between April and June this year — a decrease of 21,000 from January to March 2015 and down 44,000 from a year earlier.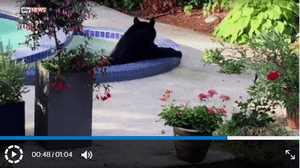 Would you bear-lieve it!
Not many people have the pleasure of having a pool in their back garden and even fewer people can get the opportunity to see a bear in a pool in their back garden!
Footage has emerged of the bear casually wallowing in the swimming pool at a couple's home in Vancouver, Canada, before it moved to the neighbouring tub.
Watch the chilled out bear take a dip