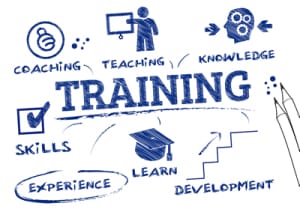 Have you or your employers ever considered setting up your own training department within your organisation? Or maybe you have considered going self-employed and setting up your own training company? If you can relate to either of these, then we have got work in progress that you will almost certainly be interested in.
Let's say for example, that you are the manager of a company that frequently puts members of staff through NVQs. If your company were to have its own training department, not only would it save money, but you would also be able to improve the quality of the training being delivered to your workforce. With these benefits in mind, you now want to try and find out how you can go about setting up an internal training department, so you try searching for this query on Google… Nothing.
We have tried finding out more information on this online on several occasions and it is incredibly difficult to find any websites which can provide you with the answers that you need. This is where Brooks and Kirk's upcoming Consultancy Service comes in. We are looking to provide both companies and individuals with all of the advice and support that they need to be able to set up and run their own successful training department/company.
At this point we don't want to give too much away, as we are working hard behind the scenes to set up a dedicated website for our new consultancy service. However, what we will say is that as part of our consultancy service, we will be offering one to one support to ensure that you have everything in place ready for running your training department/company.
We are aiming to have the entire site and service up and running within the next couple of months. So if this is something that sounds like it could be of use to you or your company, then you can enter your details below and we will be in touch on the day it goes live! In the meantime, if you need a bit more information on the specifics of our consultancy service then you can give us a call on 01205 805 155.