For many people, as Andy William's would say, Christmas is 'the most wonderful time of the year'. People decorate their homes for the festive season, but do those same people decorate their workplace? Does putting up Christmas decorations in the workplace cause employees to be more motivated to work or more distracted by the festivities?
The Distraction
Let's start with the negatives. As soon as the Christmas decorations are up, employees may start to lose focus on the job. They're distracted by festive chatter – Christmas preparations, what gifts they've bought their family and friends, where they're spending Christmas this year. Sneaky employees may even use their computer to buy some last minute gifts! The relaxed vibes that Christmas brings may mean that things aren't getting done as quickly as they normally would. Not to mention the party atmosphere the decorations would give!
Of course, decorations aren't free. Decorating the workplace requires spending money to actually buy the decorations. Sure, the same ones can be used year after year, but that doesn't mean that they don't cost anything in the first place. That means money is spent on something that isn't necessarily going to contribute to a businesses success. Some companies may be trying to cut their expenses. In this case, Christmas decorations in the workplace aren't really a necessity.
It is likely that there will be some members of staff who don't celebrate Christmas. They probably dread this time of year. People are in fear of being called 'Scrooge' for not celebrating Christmas when they probably have a very valid reason not to. This may be because of religious reasons, or maybe personal reasons. Not everyone does want to celebrate Christmas. Regardless of their reasons, it should be respected by all if a person chooses not to celebrate the holiday.
Even so, is pretending that Christmas isn't happening really the right way to go about keeping employees motivated?
The Motivation
Onto the lighter side of things, Christmas decorations in the workplace can have a positive impact on members of staff. Going to work every day with no recognition of Christmas is likely to bring employees down. However, celebrating this the festive season in the work environment can build positive morale which therefore could motivate your employees. A highly motivated group of staff means and stronger and more productive team. Having a productive team will definitely make the boss happy. You're happy, the boss is happy, everyone's happy!
Employees who do celebrate Christmas may feel as if their company doesn't value them or the hard work that they do throughout the year if their workplace doesn't do something festive. Surely nobody wants their company to be seen as the dull business that doesn't celebrate Christmas. If a workplace is one in which clients regularly visit, what will they think about the lack of festive spirit?
There might be no way around the fact that at Christmas time, less work actually gets done. At Brooks and Kirk, we notice a slight decline in work handed in over the Christmas period. But we completely understand – it's a busy time of year and people are with their families! Happy employees (the ones sat at their desks probably wearing Santa hats) are much more likely to feel motivated to get stuff done if they are in a positive environment. Realistically, is it so bad for staff to have the occasional break to chat about which Supermarket is selling the cheapest turkey this year?! As long as they're getting all the necessary work done, that is.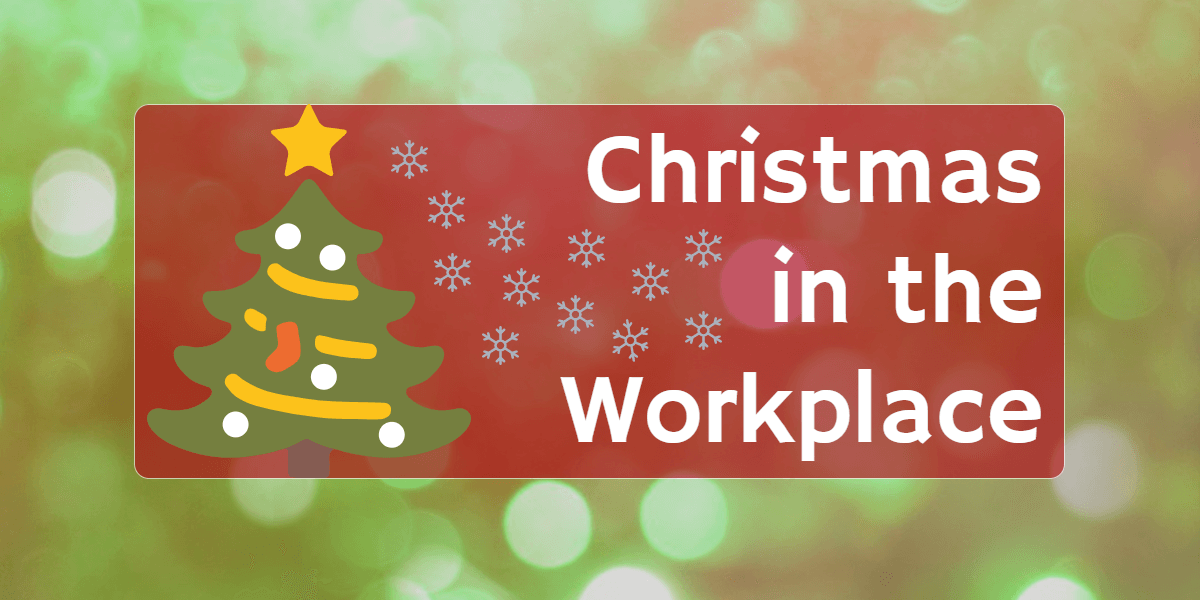 Our Opinion
To be perfectly honest, my opinion is that the best way of dealing with Christmas in the workplace is to just accept that it may not be as productive as any other months of the year. At Brooks and Kirk, we're planning on putting some decorations up. We haven't got round to it yet but someone has appointed themselves to do it. So for now, the office still remains… not so Christmassy. Slackers!
Every workplace is different, but we want to know about yours! Do you have Christmas decorations in the workplace? Let us know, and tell us what you think about them!