We all do household chores. Whether it's cooking, cleaning, laundry, looking after children… the list goes on. But did you know, a recent report has shown that British people do 1 TRILLION pounds worth of unpaid housework every year?! Unbelievable, right? Household chores are worth more than the UK's retail and manufacturing output combined!
---
The Data
The ONS (Office for National Statistics) released this data, which revealed the shocking statistic. Jobs such as the ones mentioned above, plus adult care and driving, increased by a massive 80% between 2005 and 2016. The figures flew from £684.87 billion to £1.24 trillion – equating to £18,932 per person per year. That's bigger than the £1.04 trillion total contributions of the UK's non-financial corporation sector. According to these figures, driving alone accounted for 28.8% of the total value of unpaid work. Unsurprisingly in second, was Childcare, totalling at £5,358 per person.
Apparently, this data is relevant for 'considering demographic changes such as adult care provision, growing poverty rates and changes to the state pension age'. What it did do, is demonstrate the hidden value stay-at-home spouses offer the economy. They contribute more in economic terms than the entire non-financial business sector… crikey.
Here are some little statistics for you anyway:
Cleaning the home – £3,037 per person
Mowing the lawn – also £3,037 per person
Feeding the family – £2,400 per person
Doing the laundry – £1,355 per person
Caring for children – £5,358 per person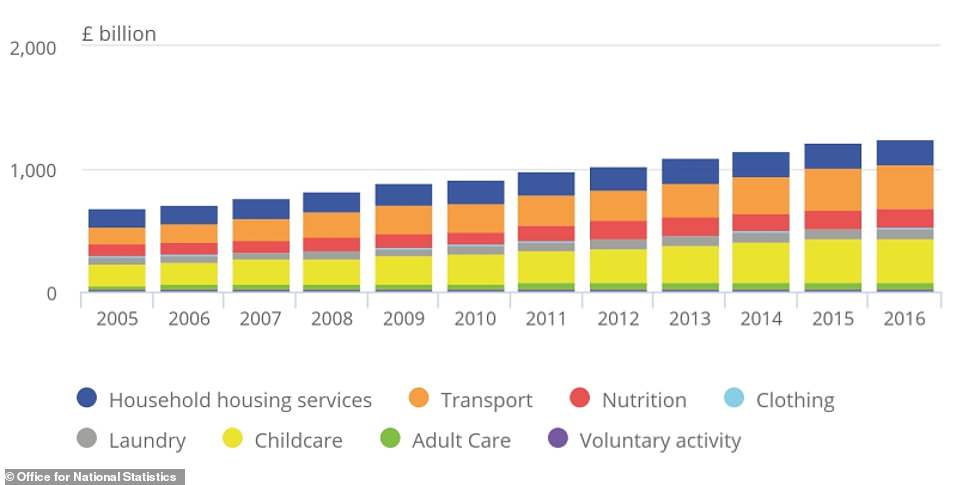 Can you imagine if we all were paid for the housework we do every day? Wouldn't it make the odd jobs around the home a lot more bearable? Not to say that looking after children can sometimes be UNbearable… anyway…
The ONS has said that the data is important because it shows the value of unpaid jobs carried out by households across the UK, which could have been contracted to the market. In easier terms, it shows the value of all the family responsibilities that adults do themselves rather than pay somebody else to do.