Here you will find a brief overview of what's been going on in the training world over the last week, as well as a completely random story that we hope you'll enjoy as much as we did!
Government U-turn on new childcare apprenticeships hailed a victory for employers
The Department for Education (DfE) had been planning to require would-be learners to have the qualifications at grade C or above to be able to start the Early Years Educator (Eye) level three Trailblazer apprenticeship.
But the policy, which had led to fears that potential learners would be put off the sector, was today rejected by Childcare Minister Sam Gyimah, who said: "Unnecessary barriers shouldn't stop skilled people joining the workforce, and it makes much more sense to have an exit standard rather than a barrier to entry.
Professor Wolf calls for all employers to pay apprenticeship levy as she rejects Conservative manifesto funding plans
A leading government vocational education adviser today warned the government would have to make all employers pay a levy to fund apprenticeships growth.
Professor Lady Alison Wolf, author of the 2011 review of vocational education, outlined her plans in a new report despite Conservative manifesto commitments to fund extra starts by switching classroom-based FE funding and recycling savings from the welfare budget.
New BIS committee chair calls for 'real controls' on success rates
New Business, Innovation and Skills Select Committee chair Iain Wright has called for "real controls and mitigating actions" on success rates cheating amid claims it was widespread within the FE sector.
The MP for Hartlepool, who ousted former committee chair and fellow Labour politician Adrian Bailey in an MPs' vote this month, addressed the issue with North Hertfordshire College principal Matt Hamnett having revealed how he discovered it had been taking place in the college before he took over three months ago.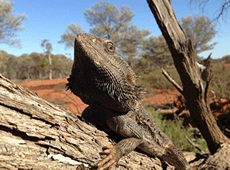 Australian lizard changes sex in high temperatures
It would be quite an inconvenience if the same was to happen to humans. But thankfully, that isn't the case. Scientists have discovered a lizard that changes sex in the warmer temperatures!
It's the first time the phenomenon has been seen in reptiles in the wild and could have implications for other animal species because of climate change.
Find out how the hot Australian climate can turn a male into a female, with lizards that is.