In case if you weren't already aware, apprenticeships are being reformed. A lot is changing in 2017 and if you are an employer that may be looking at either recruiting apprentices or putting existing members of staff through apprenticeships, then you certainly need to be aware of these changes.
Here are the four topics that we are going to be looking at in this article:
---
Digital Apprenticeship Service
Standards and Assessment Plans replace Frameworks
---
The Apprenticeship Levy
On the 6th of April 2017, the government will be introducing an Apprenticeship Levy. For small to medium sized companies, the introduction of the levy will have virtually no impact on you whatsoever. As for larger employers with a pay bill of greater than £3 million each year, you will be required to pay into the Apprenticeship Levy. But, all this really means is that you will be paying into your own staff training budget.
The purpose of the levy is to encourage more companies to invest in apprenticeship programs. Furthermore, it is expected to help improve the quality and quantity of apprenticeships. The idea is that larger companies will pay for apprenticeship programs for either new or existing members of staff using the credit that they accrue from their levy payments. Any funds that levy payers don't use within 24 months of being credited will expire.
So to keep it simple, here is what you need to know if you are going to be a levy payer:
Each month 0.5% will be deducted from your wage bill and deposited (in the form of credits) into your unique account on the Digital Apprenticeship Service. For every 0.5% you pay into your levy pot, the government will also make a 10% contribution.

Each tax year, you will be able to offset a £15,000 levy allowance against what you pay into the levy.

If you spend all of the credit that you have built up in your levy pot and want to contribute more, then you will receive a 90% contribution from the government towards your training costs (See the New Funding Model section for more information on this).
If you are a non-levy payer, then you don't need to be concerned with using the Digital Apprenticeship Service to pay for your apprenticeship training just yet. You can carry on as you are going direct to the training provider to arrange funding your training provision. That being said, on the subject of funding, you may want to have a read of how funding for apprenticeships is changing…
New Funding Model
Right on cue!
Essentially, the whole apprenticeship funding model has been turned on its head. The onus is now on the employer to ensure the quality of the training that their staff receives and the associated costs for that training. No longer will apprenticeship training organisations have pots of funding to offer out to employers. In fact, when it comes to levy payers in particular, it is quite the opposite!
Whilst we still have the apprenticeship levy lingering on our minds, here is what the reformed government contributions will mean for both levy payers and non-levy payers.
For Levy payers:
Once you have used all your credit in your account, then the government will pay 90p towards every £1 for training provision. Meaning you as the employer, will only have to contribute 10p towards every £1 of fees that need to be paid to the training organisation.
For Non-Levy payers:
The 90p:10p rule applies to funding all apprenticeship training. Again, just to clarify, for every £1 of fees that needs to be paid to the training provider, you as the employer will only be required to pay 10p if anything at all…

Because, if you have fewer than 50 employees and recruit a 16-18 year-old apprentice, then the government will cover 100% of the training costs.

Likewise, if you take on a 19 to 24 year-old apprentice that has been in care or has an Education and Health Care Plan, again, the government will cover all of the training costs.
Finally, whether you pay the levy or not:
For every 16 to 18 year-old, or 19-24 year-old that is took on as an apprentice, both you as the employer and the training provider will receive an additional £1,000 to support with the training costs.
The Funding Bands
The apprenticeship funding system will be made up of 15 bands, each with an upper limit ranging from £1,500 to £27,000.
Every single Apprenticeship Standard will fall within one of these fifteen bands (don't worry, we are coming to Apprenticeship Standards later). But if every apprenticeship only has a maximum amount that can be charged to the employer, then who decides what the actual cost of the apprenticeship is going to be?
Well, you as the employer and the training provider have the ability to negotiate the cost of the apprenticeship. As you can imagine, there are potential advantages and disadvantages with this. But what is more worrying than anything is the fact that there isn't a minimum limit on each funding band. It almost seems inevitable that this will encourage a number of training organisations to rush to be the cheapest on the market. Obviously it just depends on the quantity of providers that go for this approach as to whether or not this will lead to having a negative impact on the quality of apprenticeship training being offered. Only time will tell.
The Funding System
Hello Apprenticeship Levy, goodbye Academic years! The introduction of the apprenticeship levy will also see the beginning of a new rolling, monthly system. Whereby, instead of academic cycles, there will be a monthly roll-on roll-off system. This will be better suited to align with employment patterns and the wage bills of levy payers.
The changes to the funding system don't end there! The age, prior qualifications and location of the apprentice will no longer affect the amount of funding that can be offered either. So, even if an employee already has a level 3, they will still be eligible for the same amount of funding that they would if they had no qualifications at all.
The Digital Apprenticeship Service (DAS)
Every single employer that wants to look into either taking on an apprentice or putting an existing member of staff through an apprenticeship program will need to have an account on the DAS.
The Digital Apprenticeship Service is a digital interface designed to help employers choose a training provider, establish prices for their apprenticeship and even arrange using credits that they have accrued from paying into the levy (if applicable).
So, regardless of whether you are a levy payer or not, the Digital Apprenticeship Service will help you to:
select the apprenticeship framework/standard that you are interested in

search for approved providers that can offer the training that you have specified

choose an assessment organisation for the end point assessment

post any vacancies for apprenticeships that you have
From May 2017, if you are paying into the Apprenticeship Levy, you will also be able to use the DAS to:
view how much credit you have to spend on training provision in your account

specify the agreed training fee between you and the training provider 

make payments to the training provider and assessment organisation
It's understood that by 2020, all employers will be able to use the DAS to pay their chosen training provider and assessment organisation. Until then, for all non-levy payers, you can just carry on as you are.
Standards and Assessment Plans
Apprenticeship Standards are replacing apprenticeship frameworks. These new apprenticeship standards have redesigned the structure of apprenticeships.
Every single apprenticeship has its own standard and accompanying assessment plan. These apprenticeship standards were designed by employer-led groups (trailblazers) within the respective industries. Each apprenticeship standard will include the following details:
The level and duration of the apprenticeship

A brief explanation of what the apprentice's job role would involve.

The Knowledge, Skills and Behaviours (K-S-Bs) that the apprentice should have acquired upon completion of their apprenticeship.
The following image shows you what the structure of an apprenticeship looks like now.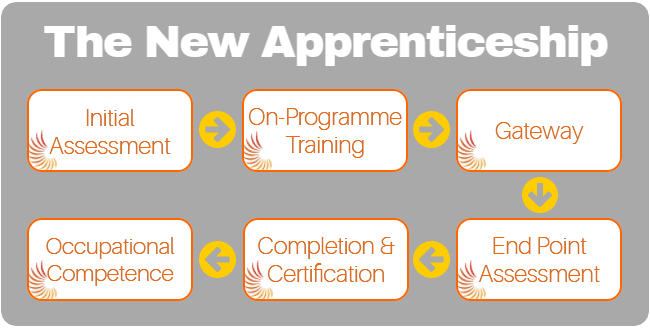 A few of these terms may be new to you. So I have included a few simple explanations of what these phrases mean below:
On-Programme Element – This refers to all of the vocational training that the apprentice will undergo during their apprenticeship (e.g. NVQ, BTEC, Functional Skills, etc.)
Gateway Requirement  – To be able to pass their apprenticeship, the apprentice needs to be able to complete their End Point Assessment. They can only do this once they have met the Gateway requirement. Once the apprentice has completed their vocational qualification and any other necessary qualifications, then the training provider will be able to sign off the learner as having completed their On-Programme Element. This sign off is effectively the Gateway.
To find out all about End Point Assessments, Assessment Plans and the different kinds of passes on Apprenticeships, please have a read of our article on End Point Assessments. We have even gone into a little more depth regarding some new phrases that have come out of the apprenticeship reforms, so it is certainly worth a read!
As you can probably tell, the government is seriously backing the new apprenticeship reforms. So much so that by 2019 to 2020, government spending will be double the level of spending in 2010 to 2011!