Don't worry – You don't need to hide under the table in fear of another MLM scheme (Multi-Level-Marketing)!
We're talking about our new affiliate scheme. This is a simple and easy way to earn a little extra income before Christmas. And in doing so, you'll also be spreading the word about Brooks and Kirk's highly recommended Assessor, Tutor Training and Internal Quality Assurance courses.
What is an affiliate scheme?
Have you ever purchased from a website and been offered a discount if you refer a friend?
An affiliate scheme is a little like that, except between two businesses, rather than a business and an individual customer. But don't worry if you don't run your own business, you can still earn money with Brooks and Kirk's unique affiliate scheme.
What does an affiliate have to do?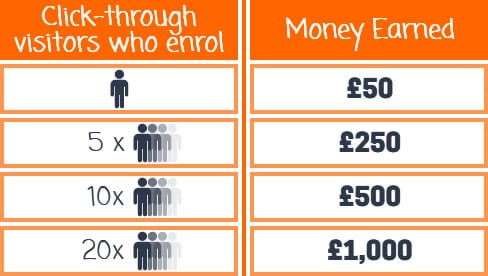 As an affiliate, your task is easy. You simply place an advert/link on either your website, social media profile or your email signature and we'll keep track of who is clicking through. If any of those people who click through from your ad/link enrol onto one of our courses, you'll earn £50!
That means there's the potential to earn a decent amount of income without really doing anything. A perfect passive earner for busy people looking to put a little more aside in the run-up to Christmas.
What's more, you'll be helping more people take the first step towards their new careers as Assessors/Trainers.
This chart shows how much you could be earning simply by advertising for Brooks and Kirk:
Referring to our affiliate scheme
You can even earn money for referring other people and businesses to join our affiliate scheme. For each person that signs up to help promote Brooks and Kirk, you'll earn £5.00.
How much does it cost to be an affiliate?
It doesn't cost you anything! Not only is it free to register onto our Affiliate scheme, it takes minutes, if not seconds.
Who is the affiliate scheme for?
Anyone can apply for our affiliate scheme. However, the most mutually beneficial connections are those between Brooks and Kirk and other learning institutions, training centres or even organisations/individuals from sectors that are big on vocational training (construction, hairdressing, health and social care etc.).
If you or your business have a website or social media page and your audience is likely to be interested in learning to become an Assessor or Tutor, then you're perfect to be a Brooks and Kirk affiliate.
Why Brooks and Kirk?
We have been delivering assessment training for over 20 years. During this time, we have worked with some of the smallest and largest companies across the country. We're experts in our field and we want to qualify more experts to become assessors/trainers in their fields. It is our hope that by promoting quality vocational training and assessment, we will help to close the skills gap across sectors in the UK.
The more people who know about us, the more able we are to achieve this goal. Our affiliates are essential partners in helping us to reach more people and grow our audience. And, in return, these affiliates will get to earn a few quid along the way.
It's a win-win for us all!
So if you would like to become an affiliate, please either get in touch or register online today.