Here you will find a brief overview of what's been going on in the training world over the last week, as well as a completely random story that we hope you'll enjoy as much as we did!
A local government thinktank has called for the abolition of the Skills Funding Agency (SFA) within just over a year
The abolition of the Skills Funding Agency (SFA) within just over a year has been proposed by a local government thinktank as it recommended devolving "various streams straight to local enterprise partnerships (Leps)."
A report from Localis, who are an independent think-tank, dedicated to issues related to local government and localism, have called for the SFA to lose its £3.5bn from the Department for Business, Innovation and Skills (BIS) by 2016/17.
9 out of 10 businesses think school leavers are unprepared for the workplace
Results from the British Chambers of Commerce's Workforce Survey show that businesses overwhelmingly feel that many young people are not adequately prepared for the workplace upon leaving the education system.
Findings from the survey of almost 3,000 companies show that more than three-quarters (76%) report a lack of work experience as one of the key reasons young people are unprepared for work. Over half (57%) said that young people are lacking basic 'soft' skills, such as communication and team working, to succeed in the working world.
All 14 to 16-year-olds should be able to study a vocational subject at school
This recommendation came as part of the Demos thinktank's Commission on Apprenticeships which was launched last summer. The report that was published earlier in the week, also calls for an "apprentice guarantee" that could see learners liable for off-the-job training costs if they don't complete their framework.
The Commission has made its recommendations in the 116-page report alongside the results of a survey of 1,000 parents, which revealed a big difference in the proportion who thought apprenticeships were a good option for young people generally (92 per cent), and those who favoured them for their own children (32 per cent).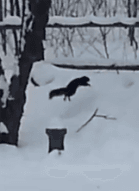 Video of a squirrel drunk on fermented apples staggering home
The struggle of this squirrel may look familiar to anyone who may of had a few too many before. 
At first the cameraman believed the animal was hurt, but soon realised that the squirrel had too many crabapples.